1

Fully self-contained RV's only

2

The speed limit is 10 MPH.

3

Registrants will be held liable for any damage moving into or out of a site.

4

Facilities are solely for the use and pleasure of registrants and their guests who do so at their own risk.

5

Registrants and their guests will be held liable for damage to any park property.

6

No food or drinks are allowed in the building except in the designated area (dining hall/ Meeting room).

7

RVs and vehicles are subject to management approval

8

No smoking in any building

9

Generators are not allowed to run without prior approval

10

Help us keep our park clean; leaving cigarette butts on the ground is littering. Please use receptacles.

11

No oil changing or major vehicle repairs are allowed in the park.

12

Quiet hours between 10:00 PM - 8:00 AM.

13

Pop-up trailers are restricted to a maximum 7-day period.

14

No wood-burning fire pits are allowed at the site; gas only.

15

Awning or sunscreens shall be attached to RV. No portable gazebos, sunscreens, or ramadas are allowed without management approval.

16

Absolutely no fireworks are allowed in the park.

17

Each site is allowed one(1)RV per lot.

18

Please respect your neighbors. Avoid walking through other sites.

19

Parking and storage restrictions do apply per management guidelines and approval.

20

Resort fees may apply to daily/weekly registered guests.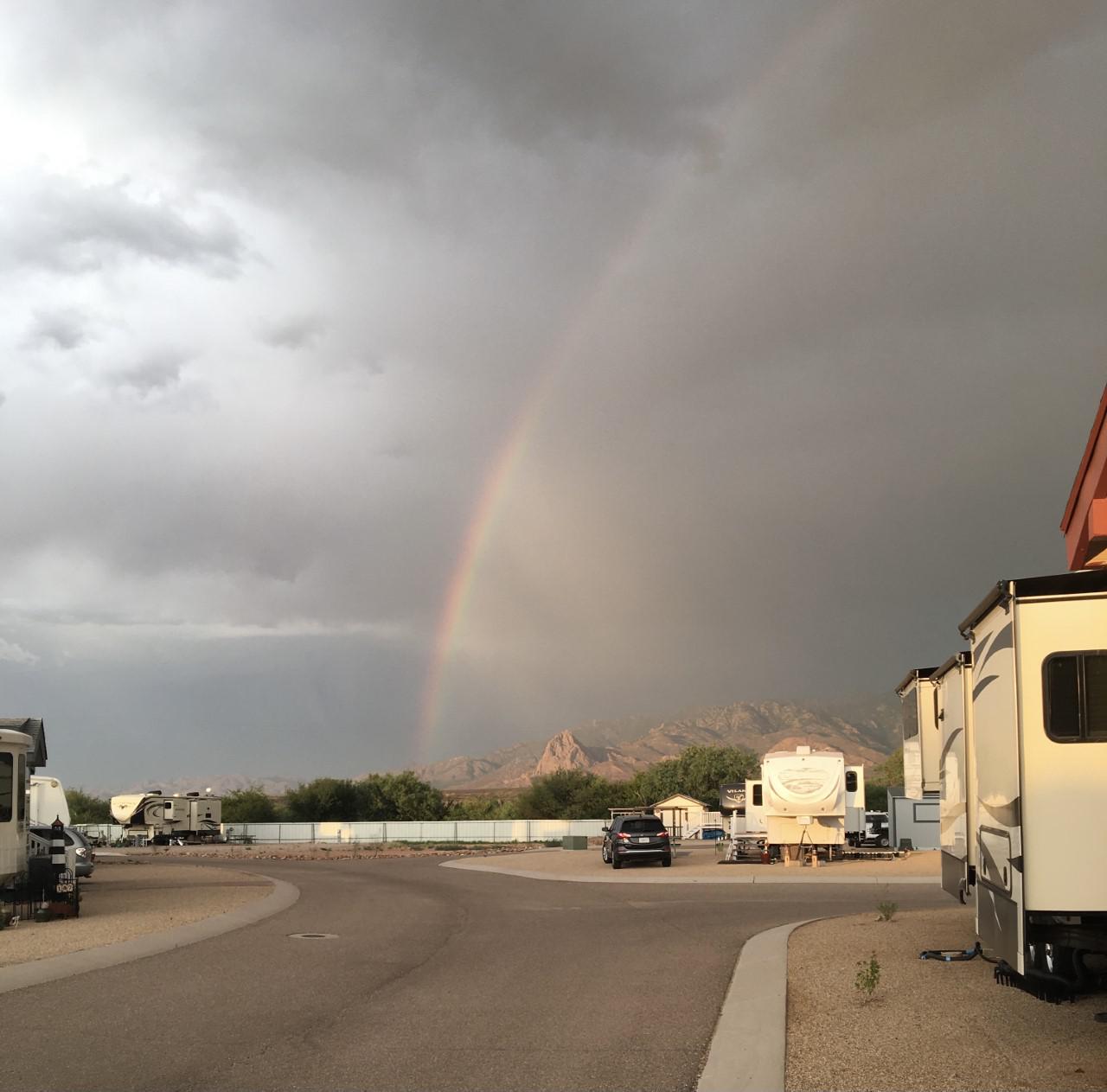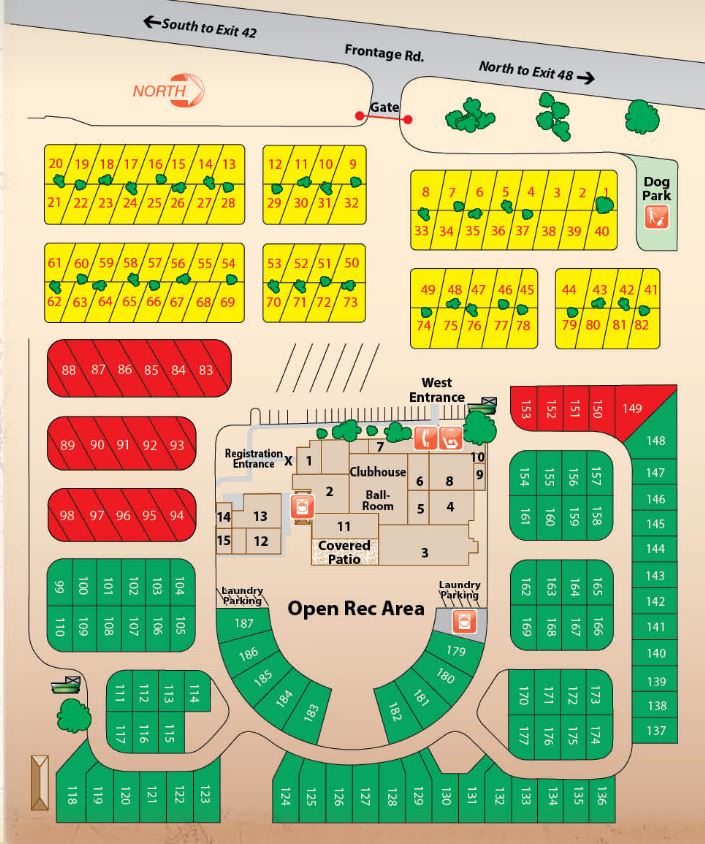 1

The site you have been assigned is reserved only for the period you have prepaid.

2

Use only the site you have been assigned and do not park vehicles on another site

3

Do not drive through sites unless it is a pull-thru site.

4

No street parking is allowed. Vehicle parking may include a maximum of two (2) vehicles per site rental, subject to proper registration and without the obstruction of adjoining spaces. The maximum allowable on-site parking/storage may include two (2) vehicles and either an ATV or motorcycle only. All vehicles must be in working and operable condition to remain parked on premises.

5

Keep site orderly and clean. No storage under RV.

6

Absolutely no laundry hanging around RVs. Use Laundry dryers.

7

No washing any vehicles on sites. (Professional wash to be approved.)

8

No site or common areas are to be used as pet potties.

9

No trailers, car dollys, or watercraft are stored on site.
1

Registrants and guests must adhere to all posted signs.

2

Swimsuits only. Absolutely no cut-offs, shorts, or t-shirts allowed.

3

Changing area available at the pool. No dripping in the clubhouse.

4

No food or drinks in the pool area.

5

Spa/Jacuzzi is reserved for adults only - no children under 14 years old.
1

Garbage should be enclosed in plastic bags which are tied, prior to placing in dumpsters.

2

Boxes and containers should be flatted prior to placing in the dumpster

3

Please do not leave refuse on your site, use the dumpster.
1

Registrants must have their guests register at the office.

2

You are responsible for the actions of your guests. A maximum of 2 adults per RV.

3

A $5 per day extra lodging fee will be charged for ages 6 and above, or a maximum fee of $50 a month.

4

Registrants are responsible for the conduct of their children., and any child under 14 must be accompanied by an adult at all times.

5

Visitor guest fee $5. Maximum Two Guests Per Site.

6

Private room rentals are available based upon availability for a fee. Contact the office to register all private events.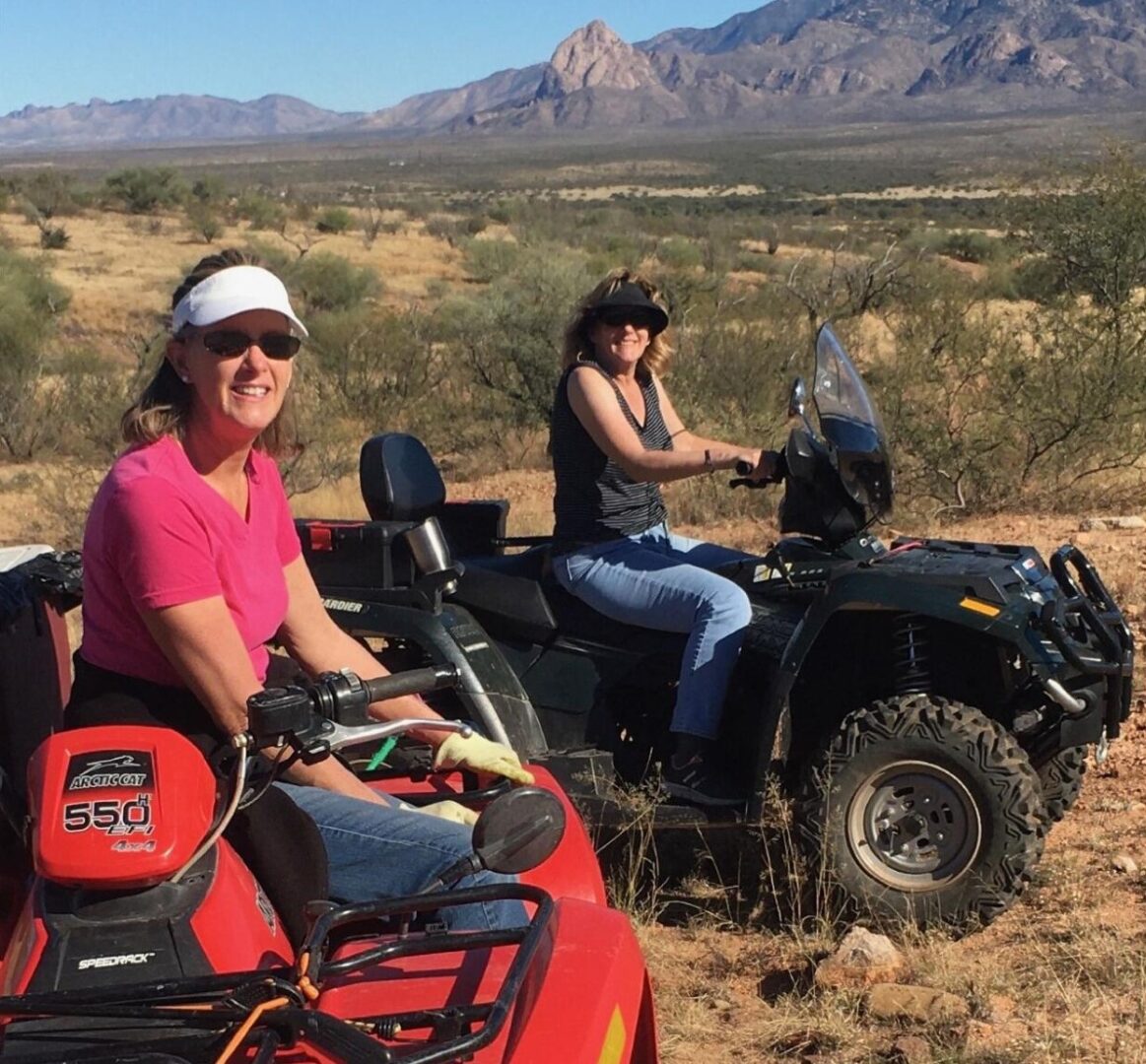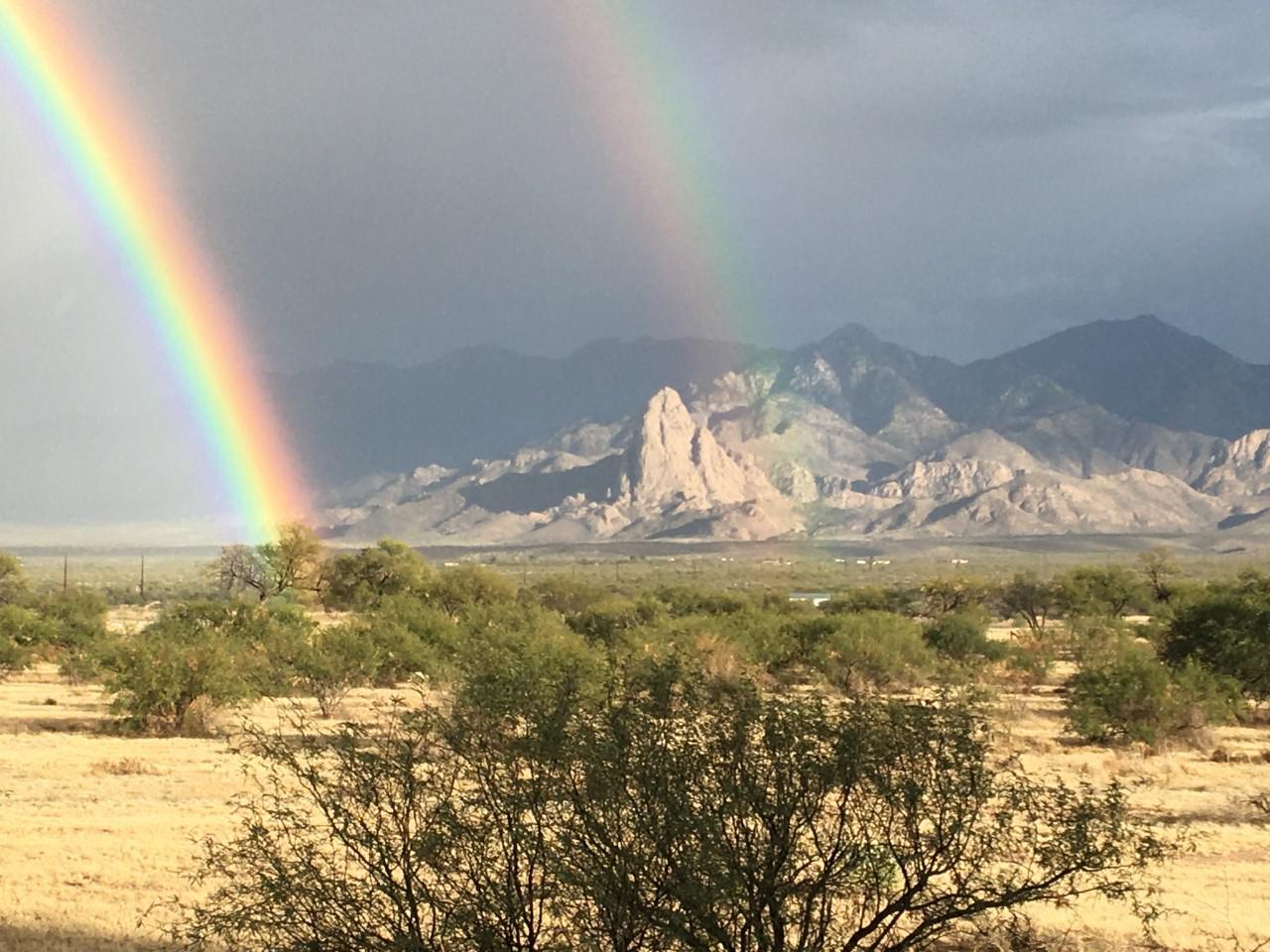 1

All pets must be registered and approved by management before admittance is allowed.

2

We will accept up to 2 pets, and an extra fee of $2.50 per day, or a maximum of $30 per month for an extra dog.

3

Pets permitted are dogs, cats, small birds. Few exceptions.

4

Pets are to be leashed at all times outside your RV.

5

Pets are not to be left unattended inside or outside your RV for an extended period of time.

6

Walk pets in designated areas only and pick up immediately after them. Your site is not to be used as a pet potty.

7

Each pet must be inoculated and licensed in accordance with applicable laws. Management may request proof of such information.

8

In the effort to maintain a harmonious living atmosphere, if any pet receives frequent complaints or causes any unreasonable disturbance or harm - barking, growling, biting, or other unreasonable noises or property damage - the registrant's permission to keep the pet in the community may be revoked.

9

Should any pet pose a threat to the health or safety of any resident or staff, the owner of the pet shall be served with a notice to remove the pet from the premises.

10

For safety, do not feed stray dogs, cats, or wild animals.

11

Pets are not allowed into the clubhouse, laundry, or any recreational area at any time, with the exception of guide dogs, signal dogs, or other service dogs.

12

Exterior pet housing is not permitted, therefor pets must be kept inside overnight.

13

If you and/or pet(s) do not comply with these rules, resort management may, at its sole discretion, revoke the approval of the pet and require the pet to be permanently removed from the community. Management may also have the pet taken to the animal shelter.
Management reserves the right to amend any and all rules and regulations as it sees fit for the best interest of the community.